Kijkwijzer explained

Kijkwijzer explained
Classification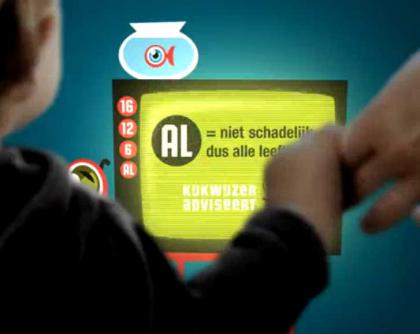 Kijkwijzer warns
Kijkwijzer warns parents and educators of children up to a certain age whether a television programme or film may be harmful. Kijkwijzer does this firstly by giving an age recommendation: All Ages, 6 years, 9 years, 12 years and 16 years. Pictograms are also used to show the reason for the recommendation: violence, fear, sex, discrimination, drug and/or alcohol abuse and coarse language.
| | |
| --- | --- |
| = Not harmful / All Ages | = Violence |
| = Take care with children under 6 | = Fear |
| = Take care with children under 9 | = Sex |
| = Take care with children under 12 | = Discrimination |
| = Take care with children under 16 | = Drug and alcoholabuse |
| | = Coarse Language |
Kijkwijzer does not advise on suitability
The Kijkwijzer age recommendation does not simply mean that a television programme or film is suitable for children of that age and above. Kijkwijzer makes no pronouncements on this. For example: a serious documentary bears the recommendation All Ages, because it contains no images that could be harmful to children. The film may nevertheless be unsuitable for young children, for example, because the content is too complex.
Final responsibility rests with parents
Kijkwijzer does not pass judgement on the content or quality of television programmes or films. The preferences and standards applied by parents are too diverse to allow this. Kijkwijzer simply warns of possible harmful images in television programmes or films. Final responsibility for what their children can see rests with the parents.
There is however a legal stipulation introduced by the government concerning the age categories.
Products bearing the Kijkwijzer recommendation
Kijkwijzer is applied on virtually all audio-visual products on offer in the Netherlands, from television programmes and cinema films to films on DVD and video.
An exception is made on television for news and live programmes, as it is not possible to classify these in advance. However, the suppliers of these are obliged to take the broadcast time into account. Viewers must also be warned of shocking images in advance.
For games, the international PEGI system is applied. This is a rating system very similar to Kijkwijzer .
Where can you find the Kijkwijzer recommendation?

The Kijkwijzer pictograms can be found not only in television listings magazines, but also in cinemas, film guides, film websites, advertisements, posters and on the packaging of DVDs and videos. The pictograms are also shown at the beginning of a television programme. You will also always find the Kijkwijzer recommendation for a television programme on Text page 282.
Broadcasting times on television
In the case of television, the Kijkwijzer ages are linked to broadcast slots. Programmes with the classification All Ages, 6 and 9 years may be broadcast at any time of the day. Programmes with the classification 12 years may only be broadcast from 20.00 hours and those with the classification 16 years from 22.00 hours.
---
Table of contents:
Kijkwijzer explained
Classification